Our wedding was on a Saturday, and we decorated the Church the Thursday before, and on Friday we had rehersal, dinner, and decorated the hall.
On the Friday of rehersal, I went and got mani-pedis with my girls. I got a light lavendar color on my toes with a flower design (I wanted something fun for the honeymoon, since you wouldn't really see my toes at the wedding anyway) and I got acrylic french tip nails with a little sparkle. And of course we wore our team bride shirts that we got at the
bachelorette party
.
Rehearsal was at 6:00 p.m. at the church and everything went pretty well. We ran through the ceremony a couple of times and then it was off to dinner at
Brann's
.
My dad and I practicing our walk down the aisle.
Our ring bearers practicing holding their signs at rehearsal.
Brann's
did an amazing job hosting our rehersal dinner. The service was fast, the staff were friendly, and the food tasted great!
This is the only picture I have from dinner...Kelli and her giant drink :)
We gave our bridal party their
gifts
at rehersal dinner. After dinner we headed over to the hall to decorate. We used every single table and chair that was in the reception hall. We set up 320 seats for guests (we had about 310 RSVPs), tables for the buffet lines, the photobooth, our head table, gift table, cake table, and a table for our guest book/quilt squares (more about the quilt squares another day).
The hall was pretty bare, but I knew that I didn't want to spend tons of money and time decorating it. I mean, think back to any weddings you have been to. Do you remember what their decorations looked like? Or do you remember being with friends/family and dancing the night away? I just remember dancing and having a good time at any weddings I had been to, so I didn't stress about going all out with the decorations.
Here is what the hall looked like before it was decorated:
We covered the tables with white table clothes that we rented from our caterer. We just did candle centerpieces (much cheaper than flowers) and we used some Christmas icicle lights under the table clothes to decorate the cake, gift, and guest book tables. We hung some photos of Kevin and I on a bare wall using clothespins (spray painted purple) and white rope/string from Hobby Lobby. We brought over the lighted pillars that we used at the wedding to add a little more to the reception. Here's what the hall looked like after we were done decorating:
I'm super happy with the way everything turned out. I think it looked great, and it was nice to be home at a decent time that night since we had to be up early the next day for hair appointments!
-Ericka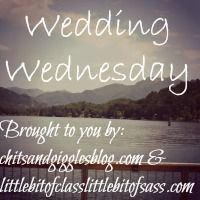 Also linking up with Belle in Boots for
Wedding Wednesday
.