TGIF!! Time for another fun 5 on Friday link up today.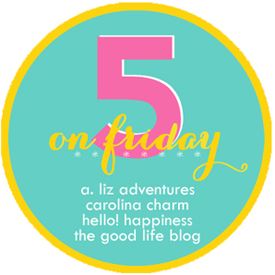 1. What do you think of the new blog design?!? I LOVE it!! I have to send a huge thanks to Adriana from
Dog Hair is An Accessory
for designing it for me. Check out her work at
Case of the Sparkles Designs
. If you're in need of a total overhaul, or just something little, check her out. She was great to work with, the prices are super affordable, and she does amazing work (obviously). I wanted something girly, but clean, using purples (my favorite color) and a little sparkle...and she nailed it! Thank you
Adriana
, I love it!!
2. In case you missed it, I finally showed off my stenciled wall and I LOVE it! You can find pictures and the tutorial
here
. I love looking at it every time I go in to our bedroom--it adds that little bit of "pop" I was hoping for.
3. This weekend is going to be a fun one! We will be in Detroit on Saturday and Sunday to watch the Tigers play!
4. Not only we will be watching baseball all weekend, but my husband even offered to take me to the outlet mall on the way to Detroit! It might only be because he wants a new pair of shoes, but I don't care, I'm super pumped. I haven't shopped in FOREVER. Hoping to find some great deals.
5. I am in love with Kraft's
Lite Balsamic Parmesan Asiago
Salad Dressing. Has anyone else tried it yet? It is soooooo good! It makes me want to eat a salad for every meal. It would be great as a marinade too. Seriously, try it. You can thank me later.
Hope you enjoy your weekend!
-Ericka